Military Benefits
Learn how to apply and receive 100% reimbursable tuition and expenses for Flight training with USAeroFlight.
Military Service Benefits for USAeroFlight
USAeroFlight is approved for VA Benefits! This means that military veterans wishing to pursue training as a professional pilot can do so and receive reimbursement for up to 100% of their expenses. Our school has a VA-trained staff member who is available to aid you through the process.
What This Means for Military Veterans
Simply put, it means a certification to be a pilot can be completely covered by the United States government. Our accelerated training program allows you to complete the course and all testing in as little as 3 months, putting you on the path to a pilot's career quickly.
Eligible veterans should know that under the GI Bill, the Private Pilot Certificate is considered a non-career certification and the US Government does not offer compensation for training expenses. Any flight training that goes beyond the Private Pilot rating, such as the Commercial Pilot Certification, Instrument Rating, Multi-engine Rating, and the Certified Flight Instructor Certification, are eligible for full reimbursement.
As of February 1st, 2017, USAeroFlight is approved for full Veteran's Benefits reimbursement for the Instrument, Commercial, and Commercial Multi-Engine pilot certification programs.
Why USAeroFlight is Great for Military Veterans
Here's a few reasons why retired military personnel should consider USAeroFlight for their FAA-certified pilot training:
Rich history of providing quality training on a professional level for over 40 years
Quality instruction with Military, Missionary, Corporate, and Airline experience
Curriculum written by our own FAA DPE with over 50 years of flight experience
In house FAA written exam testing center
In house FAA Designated Pilot Examiner
Location: SC's busiest General Aviation airport, with nearby mountains and a low cost of living
(1) Accelerated Course Schedule
Our one-on-one training programs are designed to be tailored to each student's learning ability. While studying full-time, our Private Pilot and Instrument Rating programs can be completed in a month or less each, while our Commercial Pilot program requires just over one month to complete. Our Multi-Engine Add-On program can be completed in as little as three days.
(2) FAA-Approved Program
USAeroFlight's Private, Instrument, Commercial, and Multi-Engine programs are all FAA-approved under Part 141.
(3) USAeroFlight Gets Vets
We offer a well structured program and a flexible schedule to meet your needs. USAeroFlight's staff appreciates your service to our country and would feel honored if we can in return serve you.
Apply for VA Benefits for Flight School
If you're ready to take the next step in your career as a commercial pilot, contact our VA Representative today: Michael Gonzales, (864) 987-9330 or [email protected] He will assist you in the application process for both the school and for tuition reimbursement.
Contact us and begin your application today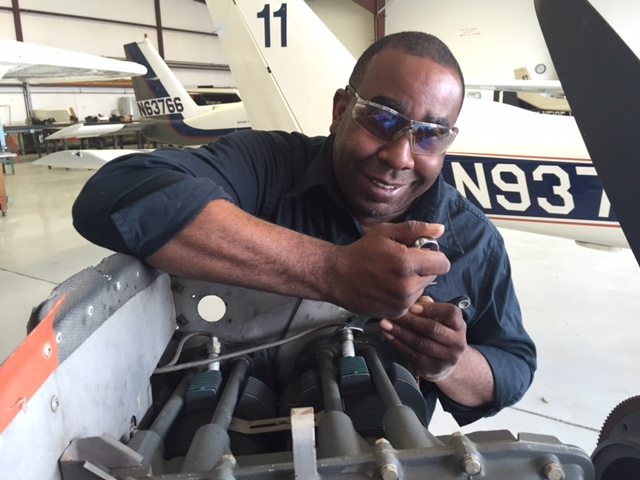 "I came from the Army. I did investigative and security work as a MP in the military. The military pays for my education."
Coming out of the military, Darius Gist was looking at what to do next. A career in aviation seemed like a fantasy.
"I was working with a friend of mine and he had an old plane. The question about becoming a pilot came up. 'I'm not sure how that works for me. I can't afford to become a pilot.' [My friend] said, 'You know, if you're wanting to be a pilot or get into aviation, the military pays for that.'
"I went to be a mechanic and they said 'Well, why don't you try for a pilot's license, too?' [Today] I'm working on my pilot's license on the weekend and my A&P certificate during the week."
Being a seasoned Vet and establishing a civilian career, Darius has some advice for his fellow soldiers and vets:
"If I'd known I could do this right out of the military, I'd have come sooner. Come to USAeroFlight and get this done. They take personal responsibility in making sure you know your stuff."